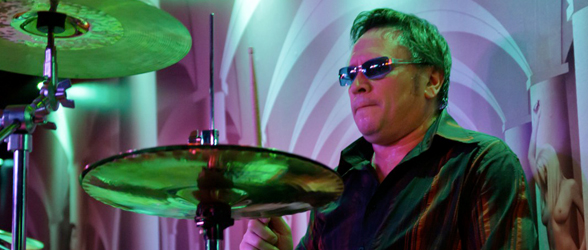 Photography by Nikki Qureshi
An early audition with The Clash led Chris Musto on many a rock n roll adventure from core punk to forming the groundbreaking Subterraneans with legendary NME journalist Nick Kent before meeting up again with Joe Strummer and working on the soundtrack for Alex Cox's film Sid and Nancy. This then led onto the permanent seat as Johnny Thunder's drummer for the last 4 years up to Johnny's death in 1991.
The cult Johnny Thunder's tribute album ­ "I Only Wrote This Song For You" followed, with Chris on drums & in the producer's chair and included Patti Palladin along with Paul Cook and Steve Jones as well as Chrissie Hynde, Arthur Kane, Sylvain Sylvain, David Johansen, Wayne Kramer (MC5), Andy Sheppard, The Ramones, Walter Lure, Los Lobos, Willy DeVille, Die Totenhosen, Steve Nieve, Marc Almond, Sigue Sigue Sputnik and Glen Matlock.
Now Chris finds himself drumming for the The Bermondsey Joyriders a band that he discribes as "The Band I Was Born To Play For". Bermondsey Joyriders frontman Gary Lammin adds, "Chris Musto is a rare and valuable addition to The Bermondsey Joyriders, we have now in Chris Musto a drummer who we can honestly say is a musician too.
Marty Stacey adds, "He makes my job as a bass player so much easier, there is a real chemistry going on..I know that Chris is there for The Bermondsey Joyriders. Chris is a compassionate bloke and it shows in his musical expression, I mean look at who he has played with in the past ! You dont get gigs like that if you dont know what your doing. Yeah Chris Musto has fitted right in…. "