UPCOMING SHOWS
THE BERMONDSEY JOYRIDERS RETURN TO PORTSMOUTH
The Bermondsey Joyriders are very happy to announce that we are making a return to the fine City of Portsmouth at The Wedgewood Rooms on Saturday September 24th. BASINS 30th ANNIVERSARY With The Racketeers (Jamacian Rhythm n Blues) and Archive 45 (Pompey Retro Punk) plus DJ Jason Webster
In Aid of Andy 'Pepe' Bache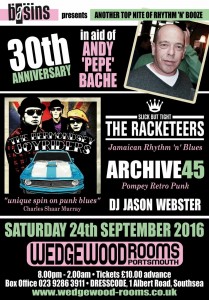 The Wedgewood Rooms
147b Albert Road
Southsea
Portsmouth
PO4 0JW
email: info@wedgewood-rooms.co.uk
telephone: 023 9229 3301
Saturday 24th September at 20.00
Tickets £10
FOR TICKETS:
http://www.wedgewood-rooms.co.uk/WhatsOn/TabId/90/ArtMID/1211/ArticleID/154/BASINS-30th-ANNIVERSARY.aspx
———————————————————————————————–
PAST SHOWS
THE BERMONDSEY JOYRIDERS AT WHAT'S COOKIN' SUNDAY PICNIC
'What's Cookin'? Well a great line up for next Sunday 17th that's what! And we will be there giving it our Sunday Best! Turn up the heat! Gonna be a good one!
Henry Reynolds Gardens
Leytonstone
London E11
Info: whatscookin.co.uk
Sunday 17th July – All dayer!!
FOR TICKETS:
http://www.wedgewood-rooms.co.uk/WhatsOn/TabId/90/ArtMID/1211/ArticleID/154/BASINS-30th-ANNIVERSARY.aspx
THE BERMONDSEY JOYRIDERS PLAY BLANK GENERATION – 40 YEARS OF PUNK
AT T-CHANCES, TOTTENHAM
40 years of Punk! The Bermondsey Joyriders are on the Friday 27th line up and well up for it!
We were there 40 years ago and still putting it out! 'Right Now'
Gonna be a big one! Lets all be there!
The Bermondsey Joyriders onstage at 21.50
Full details including set times, ticket link, accommodation, travel,
venue and non-music stuff are on the website http://blankgeneration.info/
Also check out:
https://www.facebook.com/blankgenerationfestival
T.Chances
399 High Road, London N17 6QN
020 8365 0653
https://t-chances.com
27 May at 18:00 to 29 May at 23:59
All weekend £55
Friday £20.00
Saturday £25.00
Sunday £25.00
FOR TICKETS:
http://blankgeneration.info/tickets.htm
THE BERMONDSEY JOYRIDERS ARE GUESTS OF THE BELLRAYS AT
THE BROOKLYN BOWL
We are very excited that we have been invited to support The Bellrays at The Brooklyn Bowl in Greenwich at The O2 on Thursday 28th April. Thank you kindly to Ruport Orton at Punk Rock Blues and thank you kindly to The Bellrays.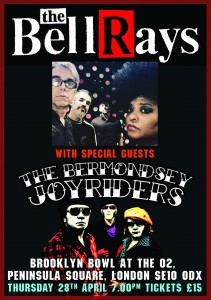 THE BROOKLYN BOWL
The O2, Peninsula Square, London SE10 0DX
020 7412 8778
brooklynbowl.com
THURSDAY 28 April 2016
Price: £15 adv
19.00 PM
FOR TICKETS:
http://bit.ly/1SJNMGG
THE BERMONDSEY JOYRIDERS PLAY POLYFEST 3 AT THE HALF MOON, PUTNEY
We are delighted to announce that we have been invited to play at this year's Polyfest 3 at The Half Moon Putney on Saturday April 30th. It's for a great cause so why not make a big effort, put on your finest threads at get down there.
Here's the FB link https://www.facebook.com/events/973841592700841/
HALF MOON PUTNEY
93 Lower Richmond Rd, London SW15 1EU
020 8780 9383
SATURDAY 30 April 2016
Price: £12 adv
6.00 – 11.00 PM
http://halfmoon.co.uk/event?event=508129&date=2016-04-30%2018:00:00
THE BERMONDSEY JOYRIDERS AT THE GARAGE WITH CHELSEA AND THE MEMBERS!
We are very happy to have been asked to play The Garage on Saturday April 23rd with our friends Chelsea, who are celebrating their 40th anniversary and The Members. What a night!
THE GARAGE
20-22 Highbury Cres, London N5 1RD
6.30 – 10.00 PM
Price: £15 adv (including booking fee)
For tickets and information, visit
http://www.ticketweb.co.uk/event/aji2304?
THE BERMONDSEY JOYRIDERS SOUTH OF THE RIVER IN JANUARY !
A return to the legendary Half Moon in Putney! Another evening of street rock n roll
for gentlemen.
With our good friends the fabulous The Fallen Leaves.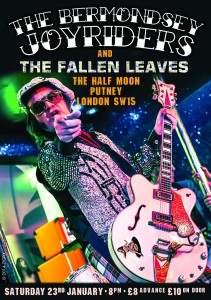 THE BERMONDSEY JOYRIDERS
+ THE FALLEN LEAVES
HALF MOON PUTNEY
93 Lower Richmond Rd, London SW15 1EU
020 8780 9383
SATURDAY 23 January 2016 at 20:00–23:00